BIO
I was trying to figure out how to write this bio so I went ahead and did some research on the basics. Then I began typing away. It was going smooth, not that bad honestly. However I hate having to say "He" when I really mean "I"and I mean who are we kidding? Who else is going to be writing this? I'm not necessarily out here in stretch limousines being chauffeured to the penthouse suite now am I?

So where do I begin? It was small, dark and warm. I was sheltered from the world outside but felt as though I would forever be trapped inside. My young mind raced for 9 months straight with only her heart beat comforting me. Bum, bum bum, bum, bum bum. Finally I was released from my……Oh wait don't go that far back? Fine let's do this the "normal" way.

On February 14th 1994 I was born in the city of brother love. Son of Bryant And Charlene Phillips. I was named Jaream Lee Phillips. Yes, it's Jaream, not "Dream". But everybody calls me Ream. Oh don't worry those aka's come a little later. I grew up with two older brothers, Jullian & Jhavon and a little sister Jhayla. I love them all….Some days. Anyway I always loved rap music, I always wanted to rap. When I was 9 I met Johnnie Rock who was apart of a gospel rap group called Wisdom From Above. Under John's teaching (and by teaching I mean ripping up my rhyme book and telling a 9 year old they were trash); I became very lyrically inclined. By the age of 11 Jrock would bring me around some artist in the city and I would jump in cyphers and blow minds. I was so good in fact that no one believed I was writing my own lyrics. I took that as a compliment. I went by the name Jblessin. (don't ask) and I formed a group called the "Lil Rockas"

Then my mom died of cancer when I was 13. And my faith was shaken. But my passion for music remained. However now I was just rapping about cars and clothes that I didn't have and women I never encountered. It wasn't until my Brothers banded together and started the group RAWC (Real At Whatever Cost / Raw Christians) that I truly rededicated my life to christ. And that is when I became ReamRaw and We rocked numerous shows with our unique sound and energy. Those were some good times.

In 2013 I met Keefkeyz and together we started on my first mixtape *drumroll* "THOU SHALT NOT KILL" this project opened so many doors for my ministry. I got to work with some of the hottest artist in the city. Artist such as Faithful Servant, Drew Smith, the FOF Collective and many others. This is also where all of my aka's came into effect, if you go and listen to the mixtape you can tell I'm free styling on the intro of the intro. But each of those names have meanings now and their own purposes. I was now ReamRaw, Double R, Rsquared, No Fear, Young Rebel, Young Lion, Mr. Thou Shalt Not Kill But Ima Kill it, RAH DAWG! (everyone loves yelling DAWG)

The mixtape even received recognition out of state. I had the chance of connecting with DJ Overflow of Austin, Texas. Shout out to DJ overflow. This guy played my music at SXSW and it got me a lil head nod from MC Jin. Yes, THEE MC Jin.

I was building up a lot of momentum, featuring on several projects and concerts but I felt God pulling me in another direction. And I learned years ago that you can't win a fight with God. So I took a step away from music to focus on a more direct approach of ministry. Starting up a youth group called the "Young Rebels". I used to get kicked out of youth meetings, now I'm teaching them. In class I break down the word of God and makes it relatable to the younger generation. I focus on getting them to REBEL against the way of the world, and to never conform. (Romans 12:2) I love you guys! SQUAD!

Now having that in place, I am back and focused on putting out some of the dopest, illest, and the rawest Christian Hip Hop you've ever heard.​


Powered by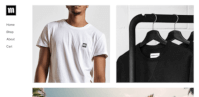 Create your own unique website with customizable templates.